Advertisement Ideas: Burn The Box!!!
 It is now time not only to think outside the box but to burn the box and release the contents that may be stopping you from maximizing your brand awareness and revenue.  In the 40 years that I have been working with non-profit organizations and for profit businesses I have noticed something that those who struggle have in common and that is they get stuck in their ways and do not adapt. There is no reason today for anyone to struggle. The reason you may be struggling is that you allowed yourself to be caught in a way of thinking that hasn't allowed you to move forward in a positive direction of your goals.  I have heard so many times over the years that I don't have money to advertise or I've tried everything and nothing is working. This mindset is what is keeping you trapped in the box and why you are falling short of your goals. It is time to burn the box and go from limiting beliefs to limitless beliefs.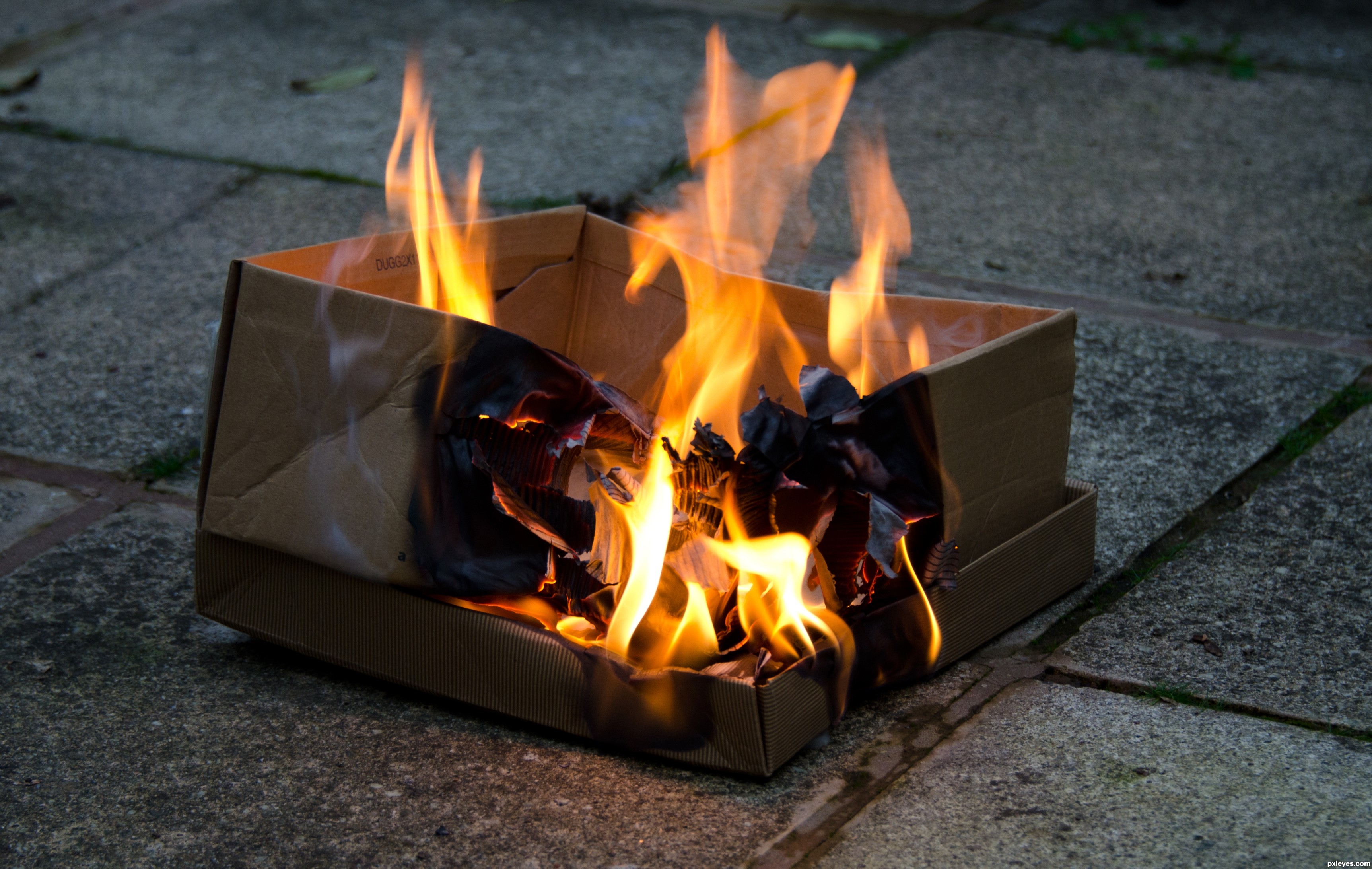 It is time to put all of your limiting beliefs into a box and burn the box then spread the ashes as compost and then begin to change the way you go about doing things. When you think you don't have money to advertise you need to turn that into I will find affordable and effective advertising methods. I recently came into 19 boxes of books from assorted genres as a result f a death in my family. Instead of saying oh I don't have the money to advertise theses books I found some free resources like sell and trade groups on social media and started posting photos of the books. I also decided to donate 50% of all book sales to The American Cancer Society Relay For Life Of Sunrise. As a result I sold 4 books today (7/15/17). I still have a condo that looks like a used book store but I am finding ways to let people know about the books and as a result I am moving the books and helping a cause that I believe in while also turning inventory into cash. When you burn the box and release the stinking thinking that is stopping you from manifesting the life that you want you will find that you begin to attract more peace, love, joy, and prosperity into your life. It all comes down to having the proper mindset when it comes to raising funds for charity or running your own business.
 When you burn the box and replace the negativity with positivism you will begin to see a shift in your business or non-profit fundraising. Instead of comparing yourself to your competition you need to burn that box and find ways for you to stand out. In doing things differently than you did in the past you will lay a foundation that will strengthen your brand and increase your revenue. You also must burn the box with the thought that you know everything because the day you think you know it all is the day you begin to lose it all.  Remember your words have power so you must burn the box with all the negative words and be open to use different words while strengthening your brand  and increasing your revenue.
Advertisement Ideas: Burn The Box: A Case Study!!!
 In the 40 plus years of working with non-profit organizations and for profit businesses I have managed to excel much to the chagrin of co-workers and supervisors for they saw me doing all these positive things and living life on my terms and it scared them as they hadn't encountered someone like myself and didn't know how to handle me. It is very simple embrace what I bring to the table as I have a lot of knowledge and experience that can help you to exceed your goals and objectives.
From 1989 – 2002 and again from 2002-2003-2008 I was very involved in The Jaycees(Junior Chamber Of Commerce). I earned the highest honor that a Jaycees Member can achieve,  a Junior Chamber International Senatorship. Along the way I earned many accolades such as being awarded The John H. Armbruster Memorial Award as one of the top 5 Jaycees in America in 1995. Along the way I gained the reputation for being a doer and not a talker. I worked with many Jaycees Chapters and each time I assisted them I was told wow you don't let anything get you down do you? My answer was that I burnt the negative box a long time ago. As I shared the concept of burning the box across the state of Florida serving as The Individual Development (Now referred to as personal development) Vice President in 2000 I realized that so many people get caught up in the negativity listening to naysayers, haters, and doubters along with their own negative self talk that they never reach their full potential. It was then that I started to look for what would drive people to be more successful and more positive. I found the answer and it was that people want to feel accepted and loved. It was then that I began to look for ways to lift everyone I came in contact with and thus leave them feeling better than when I first encountered them. In burning the box and shifting beliefs I have been able to have much success in my endeavors and when challenges arise I understand that I can either forget everything and run or face everything and rise. I have chosen to face everything and rise and as a result can tell you that my personal, professional, and spiritual life has been enhanced. So when it come time to move forward in a positive direction of your dreams you must burn that box light a fire in your heart.
Rise up and face all challenges with a positive attitude by having a burning heart and you will have success.
Categories : Advertisement Ideas, Advertising, Advertising Choices, Brand Awareness, Brand Recognition, Cause Marketing, Creating a Buzz, Customer Aquistion, Customer Loyalty, Customer Retention, Customer Service Skills, Enhancing The Customer Experience, Excuses, Internet TV, Knowing Your Target Audience, Leadership, Leadeship in Business, manners, Marketing, Marketing Strategy, maximizing your message, Money, Networking, Paying It Forward, Public Relations, Revenue Building, Social Media, Soliciting, Special Interests, Spiritual Life, Tag Lines, Testimonials, The Message, Traffic Building, Unique Selling Proposition
Leave a Reply