Advertisement Ideas: Learning From Outsiders!!!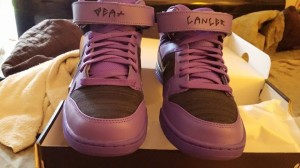 Many times when we are in positions of authority we miss out on opportunities that could have strengthened our brand, increased our donations, and most importantly increased our cash flow. As many of you are aware I am an avid supporter of The American Cancer Society Relay For Life. My passion runs very deep and I event went as far to design sneakers using www.nikeid.com. The sneakers above were designed for The 2015 Relay For Life of Boca Raton. After designing them I thought wouldn't it be great if Nike rolled out a BEAT CANCER Sneaker Line where they could do different colors corresponding to the different types of cancer and compliment them with matching shirts. I was thinking they could sell them and give The American Cancer Society a percentage from each shoe sold. I was told they have enough partnerships and aren't taking any outside ideas. I though wow NIKE thinks their too big to listen to a customer who has a built-in network of over 300,000 volunteers who participate in Relay for Life that would buy these sneakers.
In 2016 I designed the sneaker below and they have received some great feedback mostly where can I buy a pair? I stated you can design them at www.nikeid.com. People said you should mass produce them, I said I am working on it but Nike Turned me down. They said wow they are missing out on a great opportunity.
This is the next design I am working on and I went to Converse who is owned by NIKE as The Chuck Taylor All Stars are just as popular today as they were years ago. I spoke to Converse and they said oh we aren't taking any unsolicited ideas. I found this very odd as they could roll out a purple pair and produce matching  apparel and strengthen their brand even more. They could then roll out other colors each month based on The Cancer Awareness for that month for example in June they could do a Gold and Black Pair for Pediatric Cancer, they could do Blue for Prostate Cancer, In October they could do Pink for Breast Cancer. The possibilities are endless. As I was being turned down I began to think how many businesses could be doing better if they listened to their customers.
Think about it sometime we get so attached to things that we miss out on opportunities that will bring  more recognition and cash flow.  Ask yourself what opportunities am I missing because i am not listening to outsiders.  I hear it all the time oh we don't advertise or we are well-known and don't need t do anything new. I am here to ell you that you may be missing out on opportunities to increase your market share and as a result may end up closing your business. I have seen it with small mom and pop businesses and large corporations. Back to NIKE for a moment they were on the brink of bankruptcy when they decided to take an outside idea and run with it. As a result they have  now emerged as the #1 retailer of sneakers and apparel.
If you have a customization program you should be monitoring it and gleaming the ideas that you believe will resonate with other customers. Look at what the customer is asking for and deliver that and then do a soft test market to see if there is a way to scale the concept on a larger level. Think about it NIKE could have said wow that BEAT CANCER Sneaker is an awesome idea and we already produce a few for the Coaches Vs Cancer Program maybe the general public would like to buy a pair. It is when you begin to take outside input that you grow and expand.
Listen to outside ideas as many times they will help in your quest to grow your business.  I often walk into a business and can see something that would work, however I run into resistance because the owner has not empowered the manager to implement some outside ideas that could drive traffic and increase sales. Sometimes it is important to simply put your EGO aside and listen to an outsider as that outsider may see things that you never thought about.
I always have my marketing hat on as I see things before others. Over my 35 plus years of helping charities and businesses to excel I have done things a bit differently and met with my fair share of success. Recently I was out having lunch when I stumbled across a new brand Hill Billy Lemonade, I looked for a contact number and I made a call and when I was done I had the donating cases of their product for The American Cancer Society Relay For Life of Sunrise, FL. They benefited as the people in attendance at the event now know about their product and will most likely look for it when they are seeking iced tea and lemonade. I have always been good at helping businesses to find positive exposure in the market place so they can build their brand and increase revenue.
As you engage in your business this week make it a point to listen to some outsiders.
Leave a Reply