About The Author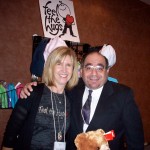 Jonathan "JDOGG" Lederman is The Positive Broadcaster. His love for media relations began at age 11 when he appeared on The Skipper Chuck Show. Through out high school and college if you wanted your message out you called JDOGG. While at Hofstra University he earned the nickname "Superfan" for his dedication and support of all the athletic teams. He wrote a column Superfan Speaks Out for his college newspaper 'The Chronicle". JDOGG graduated Hofstra in 1987 with a BBA in Marketing.  He has been involved in many charitable organizations such as The Jaycees, The Muscular Dystrophy Association, and The American Cancer Society. In July 2002  he joined The U.S. Peace Corps and served as a Community Services Educator working with At-Risk Youth at a Regional Rehabilitation Center For Youth in Buang La Union, Philippines. Upon his return he had many stories done about his service and that is when he truly found his calling in media relations. Today he is available for media relations, emcee work, public address announcing, and voice-over work.
JDOGG'S commitment to helping others can be observed by listening in any Monday Night from 6-7 PM EDT at www.blogtalkradio.com/hrafnstongradio where through interviews with guests he delivers a dose of empowerment and inspiration. JDOGG recently launched a TV Show, The Anything Bucket, which airs on www.wrpbitv.com on Tuesday at 6:30 PM EDT. JDOGG is a living example that service to humanity is the best work of life.
Call 954-254-8227 to work with JDOGG.