Advertisement Ideas: Using Gratitude To Build Your Brand!!!!
Today's blog was inspired by a conversation I was having with a gentleman at Starbucks about how people don't send cards anymore and I mentioned Kat Wagman's book Why Thank You to illustrate a point about the importance to show gratitude in your business dealings. I then tought of Sandy Harper and her gratitude boot camp. I then found the photo and of the rock above and began to realize the importnace of showing gratitude in building your brand. When was the last time you sat down and wrote a thank you card to a client for their business? When was the last time you sent a thank you note to an employee?  When was the last time you sent a thank you to a reporter for doing a story about you or posting your event?
 Coach Shantel Springer founded 100 Days of Gratitude and has been teaching people the importance of gratitude. I had the opportunity to attend one of her seminars and now keep a gratitude journal and every time that I assume the attitude of gratitude I find my day to go smoother and I begin to attract positive things into my life as a result. When you use teaching found at www.themeditationinstitution.com you can learn techniques to build your brand through gratitude.
Josh Hinds dedicates an entire chapter to assuming the attitude of gratitude in his book Live Big. I had the privilege of interviewing Josh on Get Motivated With Jonathan JDOGG Lederman. The show is now archived at www.blogtalkradio.com/hrafnstongradio. Josh shares how having an attitude of gratitude has positively impacted his life.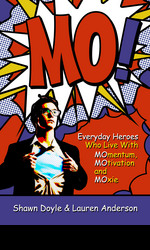 In their book MO! Shawn Doyle and Lauren Anderson  highlight people who have found MO and have become successful in business. One common thread that they have is they all have come from a position of gratitude.
Advertisement Ideas: Techniques To Use Gratitude To Build Your Brand
 1: Customer Appreciation Cards –  Have a card like this made up with your company name and logo and tag line and include a special thank you offer on the other side.
 Do you know what this is? It is a Starbucks Gold Card. I have one and today my drink was on them as my points eaerned qualified me for a free drink. Does your business have a rewards/ appreciation card?
 2: Host a special event revolving around Gratitude. This is a sign from a recent promotion at a local book store who not only gave a way books they also gave  away comlimentary book marks.
 3: Run ads thanking people for supporting your business.
4: make a gratitude video with your company name and a link to your website.
Advertisement Ideas: Tools to Help You useGratitude To Build Your Brand
Many times having a gift to give a client or potential client can help build your brand: For example when you visit www.feelthehugs.com you can order their tee-shirts and then silk screen your company logo and information on the back.
Another great idea is for you to visit www.shelliehipsky.com and order this book then stam your company information along with a thank you note
Books about gratitude will give you a great opportunity to cleam information and share it. For example you can have a gratitude moment that you share on your social media platforms or you can have gratitude cards with a gratitude  quote on one side and your company information on the other.
 This is a video to help you assume an attitude of gratitude while you build your branding.
 Thank you for reading this blog. Please share techniques you are using in your business to show gratitude.
Leave a Reply