Advertisement Ideas: Can You Be Spiritual And Rich
By
In Shamala Tan's facebook group, Be Spiritual and Rich, she touches on the concept that it is okay to be spiritual and rich. As I began to broach this topic I began to realize that many spiritual entrepreneurs are have difficulty with the idea that it is okay to get paid for plying your craft. I have often given my services away for free thinking, oh it will come back in other ways. Many times it has paid dividends but in other cases it led to people just wanting more and more for free.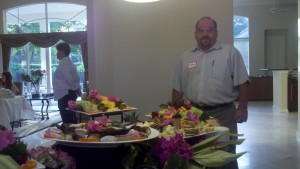 To avoid giving my services away for free I have reminded myself that what I provide has value and people should be compensating me in some form be it with a coffee, lunch, or a small monetary gesture, or my regular fee. I have resolved myself to the idea that it is okay to be spiritual and rich. I have begun to learn that it is okay to tell people no.
No can be a very empowering word as it also helps in building respect amongst those who will use your services. One day I received a call and I was asked what my non-profit rate was and I stated $25 per hour. The person on the  other end of the phone said I thought you were The Spiritual Emcee and you would do it for free. I answered yes I am The Spiritual Emcee, however the gas station won't accept my smile and spirituality as payment. He answered I understand. I said if they can fit me into the budget I would be happy to work with them.
Another example was when I called a local basketball tournament and offered to do the games for $25 per game (My Normal Fee is $100) and they offered me $15 per game. I said no thank you.  By keeping my belief that I am of value I was able to secure other paying gigs.
When I stood my ground and didn't compromise on my fees I received  some great gigs like The Lingerie League Football Games, The Blitz Bowl, and Broward College Basketball. You will get what you value yourself worth so don't mark yourself down.
Remember you may be spiritual but you deserve to be compensated fairly.  A few tips to help you be Spiritual and Rich:
. Keep your fees at the level of the people you want to attract
. You deserve to be paid what you value yourself at- STAY OFF THE SALES RACK
. Do Not be afraid to turn down business- There are enought people who will pay your fee
. Make yiurself the desired professional in your field
. Use affirmations to attract business
To let people know you come from a spiritual base here are a few thing you can do:
. Use Spiritual Quotes and Symbols in your advertising and marketing
. Brand a phrase you will known for- I.E. Mine is passion + Action = Success
. Place thank you notes on every customers receipt or with their purchase
. Email or post thoughts to help your clients
. Post a thought of the day in your business for all those who come in
Some inexpensive ways to build your brand with Spitituality are:
. Calendars for all current and potential clients with a Spiritual Theme
. Spirtual sayings on the back of your business cards
. Spritual Words and interpretation
. Give Feel The Hugs Bears to your top 15 clients- www.feelthehugs.com
. Make a donation to a charity on behalf of your clients
The possibilities are endless to be spiritual and rich. This week remind your self that you are of value and you deserve to be compensated for your talents.