Advertisement Ideas: Be Yourself and Let Source Guide You
By
The day began with an awesome meeting today with Friends of Military Children, who are providing a great service to those left behind. As I entered the meeting I did a silent prayer to source and the answers came and flowed. I recomend you connect with this organization through www.friendsofmilitarychildren.com. This can help you and your business as you can put supporter of Friends of Military Children on all your literature and thus have something that will resonate with potential clients.
I t was then off to the my chiropractor, Dr. Season Schelin, to get adjusted and centered. I diddn't have an appointment but he worked me in. I was very grateful that he did this.
As I left his office it came to me that by being centered you can also be focused and do good things. I then went over to pay my car insurance as my agent is in the same plaza.I arrived and the door was locked and the girl inside said I can't help you we are closed can you come back in 30 minutes. I politely said no can you please take my check, she opened the door and said I would have to stay outside and write the check. I was a bit upset, and stated that it is 94% out here can I please come in she finally let me in.   I wrote the check and asked for a receipt, she stated I can't access the system to do that. I was upset and said I am giving you a check please email me a receipt.
The difference in customer service was amazing two people in the service business and one who got it who I will recommend and the other who I am hesitent to recommend and thinking of finding another insurance agent. The tip here is be of utmost service and over deliver as it is easier to keep and existing client then it is to find a new one.
As I was driving to my next destination I stopped for gas and the attendant said we are all out and we are installing a new tank. I drove off and went to another gas station, where I was greeted by a smiling attendant asking how they could be of service. Again two different businesses and different attitudes. What do think I am going to do next tine I am in that neighborhood and need gas? Tip here is treat people nice and overdeliver and they will continue to do business with you.
I then traveled to my next destination when I noticed The Power 96 Van outside The Miami Subs I stopped in with my business cards in hand and introduced myself to the promotions people and did a small video to show them my talents. It was an example of JDOGG being JDOGG and taking my direction from source.

Tony, the manager said I am impressed I will be calling you. The sales rep from Power 96 said what everyone says what a great voice.
My final stop was Starbucks where I am writing this blog from. I politley asked if I could share a table with someone and gave her my card and she saw I did life and business advising and we had a great conversation which led to her giving me her card. The tip here is if you have a chance to speak to someone take it as you never know where it may lead.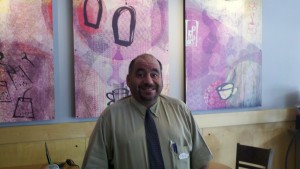 The key to success in advertising are:
. Let people know what you do by being your authentic self
. Make connections when you have the chance
. Listen to the messages from source