Advertisement Ideas: There Must Be 50 Ways To Drive Traffic!!!
As I listened to Simon and Garfunkel's 50 Ways To Leave Your Lover I started to think about 50 ways to drive traffic to your business. The following is a list of 10 effective ways that I have found to drive traffic to brick and mortar businesses.
1: Slip in strategic marketing – Know who you want to attract and what they are tuned into and then market accordingly.  A Good example of this is Sinbad Sports who just opened a second store in The Tower Shops in Davie to compliment their location at The Seminole Hard Rock in Hollywood, FL. As they were getting the store stocked with inventory they put in motion two autograph signings so as to drive traffic to the store.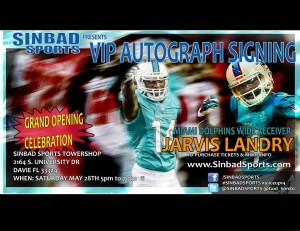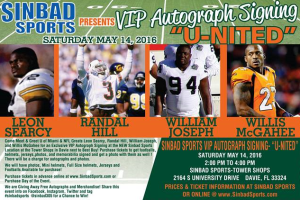 They have posted these on their website, on their social media pages, had hard copies made up to physically hand out in the community, sent these to those on their email list. The key is to have a plan to drive traffic to your business.
2: Advertise in as many places as possible to reach your target audience – Come up with ideas that will create a buzz about your business with the proper promotion.
Everyone loves balloons and everyone loves to get a prize so why not pick up a helium tank and 50 balloons and before you blow each one up put a special offer in each one like a $5 gift certificate, a 30% off coupon,  or a free item. You then require people to spend a minimum amount and they then qualify to pop one of the balloons and can collect their prize. You would include this in all your social media, print media, electronic media, and on all in-house advertising.
3: Proper Signage – Make sure people can see you and identify who you are and what you offer.
4: Customer Service – Make sure everyone has an excellent shopping experience with you so that they will tell their friends and encourage people to come to your store.
5: Email – Make sure you are capturing emails and creating feeling of importance for those who join your email list. Exclusive offers are great.
Give those on your email list something you would do for anyone else. Sometimes it is something like buy $50 worth of Products and receive a FREE GIFT. This can be something like a branded item with your company name and logo on it.
6: Specialty Items – When conducting business or being out in the community have a specialty item that you can give out to people. It could be sample pack from vendors that say this product courtesy of (insert your company name here) with a website address and all you social media sites.
7: Make Friends With Your Neighbors – Get to know the neighboring businesses so that you can do cross promotions that would drive business to each other. This is where creativity comes into play.  If you are located next to a restaurant you might be able to give a coupon for a FREE Appetizer or Desert to your customers and they would give out a 20% discount card to your store to their patrons.
8: Create A Customer Loyalty Program – When someone shops in your store you want them to come back and again people love to feel appreciated so look for ways to reward them for their business. One great thing is to do a customer loyalty program where the customer accumulates points and when they receive a certain amount of points they can use the points toward a purchase.
9: Make Sure you have an online presence and a way for consumers to make purchases on-line – I have seen many businesses open with out a website and I find that without a website and internet presence that you fall far behind the competition consider that 78% of the population will look for a product or service on-line.
10: Community Outreach – Align yourself with some local community organizations and market to their members. I always recommend a partnership with The American Cancer Society Relay For Life.
Events like Relay For Life that have large participation are great places to promote your business. You can attend the charitable events and hand out post cards that when redeemed would give 10% of the sale to the charity. I have done this and have had much success.
When partnering with charities make sure you take pictures and do media releases, share on social media, put on your website and let people know what you did to support the community.
 The key is to find ways daily to increase traffic to your business and make it a priority that once they are in your store that you turn them into buyers. Make sure you are doing something daily to let people know who you are, what you do, and give them a reason to do business with you.
Jonathan JDOGG Lederman is a leading business trainer with over 30 years of  experience in non-profit and private sector marketing. JDOGG is sought after for his ability to walk into any business and find ways for that business to effectively reach more people this creating a higher brand awareness and increasing revenue for the business. JDOGG has won numerous awards for his work in community service. JDOGG is known as The Positive Broadcaster and uses his incredible insight and speaking voice to help people to maximize their message. JDOGG is a published Author, A Speaker, A TV and Radio Show Host, a voice over talent, an emcee, and a PA Announcer. JDOGG has been described as the man to go to if you want to improve your business. JDOGG can be reached at 954-254-8227 or at rd1299@aol.com. JDOGG'S can do attitude has earned him many accolades including being the #1 Sales Person in America For Oaktree Men's Clothing.
Categories : Advertisement Ideas, Advertising, Advertising Choices, Brand Awareness, Brand Recognition, Creating a Buzz, Customer Loyalty, Customer Service Skills, Enhancing The Customer Experience, Knowing Your Target Audience, Leadership, Leadeship in Business, manners, Marketing, Marketing Strategy, maximizing your message, Money, Networking, Public Relations, Revenue Building, Social Media, Special Interests, The Message, Traffic Building
Leave a Reply