Spiritual Entrpreneurs: How My Path Began
By
It was an exciting day for me the day my mom gave me The Don Miguel Ruiz Book, The Four Agreements as it started me on a spiritual path. As I delved into this book I began to get more and more curious about the idea of spirituality. I started to study people like Deepak Chopra, Dr. Wayne Dyer, and others. Today most of my library and reading consists of spiritual books.
It takes me a little longer than others to read as I have a tinge of dyslexia. This is not an issue for me anymore as I realized that this diagnosis given to me in the 4th grade was given to me to show others how you can overcome adversity with much help and support.  I have now realized that things do not happen to us they happen for us. I no longer ask why I see the opportunity for growth. My growth in spirituality has led me to attend conferences such as The Spiritual Awakening Conference, where I met Jean Adrieene, whose book Reshape Your world I am currently reading.
In March of 2012 it is my goal to host The Spiritual Entrepreneurs Visionary Awards and honor 100 people who are shifting the consciousness of their community in a positive manner.  I have observed over the last few months that many of  spiritual entrepreneurs I encounter need assistance  to get media attention. As a result I have decided to offer my skills as a media specialist to them. One person I am assisting is Nuella Joseph of Jardin Spirituel:
If you google Spiritual Entrepreneurs you will notice many listed. If you click on the Hay House link you will find more spiritual entrepreneurs. To me a spiritual entrepreneur is someone who is of service and helps people to enhance their personal and professional life. My path continues and along the path I have had the pleasure to give back to others, serving in The U.S. Peace Corps, emceeing charitable events, and sharing with others.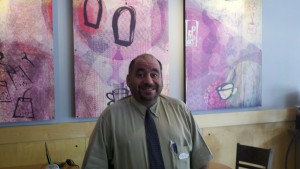 Sharing a smile and surrounding myself with positive energy has become a daily walk in my path to help others. The work you are doing as a spiritual entrepreneur is important. Here are some pointers to help you promote yourself. To connect with other spiritual entrepreneurs check out the facebook group, spiritual entrepreneurs.
1: Make a media list and build rapport with media contacts
2: Use a 3 foot rule if someone is within 3 feet of you share with them
3: Write everyday-
4: Attend Networking Events
5: Record yourself and post the recording