Advertisement Ideas: Stop Missing Opportunities!!!
 This blog entry was prompted by a phone call I had this morning (7/31/2015) where I was introducing myself as The PA Announcer and Team Ambassador for The South Florida Gold, a professional basketball team that plays in The American Basketball Association. In this role I am responsible for community outreach and giving businesses and non-profit organizations a chance to form strategic partnerships. As I called a real estate broker whose card was given to me by a colleague I introduced myself and then was told I do not have a budget for marketing to which I replied I just wanted to offer you free tickets to our home opener to which the reply was I am not interested. I hung up the phone and  thought wow this is a so called successful business person who just missed out on what could have been a great opportunity as players need housing, staff may be looking for real estate, and our fans may use his services.  I run into this type of mentality all the time those who do not  see the opportunities and can not see beyond what is considered the normal way to market. The fact is if you are doing what everyone else is doing you will not stand out and you will continue to struggle. You can avoid the struggle by simply listening to people who are presenting unique opportunities and being open to explore a different way of doing things. In being aligned with a professional basketball team you build awareness while having frequency and consistency in the market place.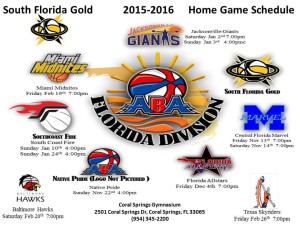 Think about it you as a business owner can pay $250 and select a game for you and your staff and clients to attend, set up a table at the game to speak to fans, hang a banner, and receive PA Announcements. This is an affordable opportunity  and is a form of direct marketing where you can obtain qualified leads.  There are many opportunities to advertise and market and you as as a business owner must seek some unique and different forms of marketing and advertising that will help you to stand out in a crowd,
 Imagine your name on 250 mini basketballs to be given out at a home game for The South Florida Gold. Your fee to do this $500. All you do is supply the artwork and The Gold gives the basketballs away to its fans. Again a different way to strengthen your brand and create a buzz about your business.
Advertisement Ideas: Don't Miss This Opportunity  To Brand Yourself!!!
 In August of 2013 I launched an Internet TV Show, The Anything Bucket, which airs on www.wrpbitv.com. I give business people and non-profit organizations and opportunity to come to The WRPBiTV Studios in Boca Raton, FL to do a 10 minute interview to reach my over 50,000 viewers. I give my guests an opportunity to purchase their clip for $175 that is fully edited with their contact information for them to use across all their marketing platforms. In today's marketplace video content is very important.  I am always amazed when a business person says no or they can not afford it. Again a missed opportunity to which I say stop missing opportunities.
Now the question is what will you do the next time someone approaches you with an opportunity. Will you consider that the person you are speaking with may be selling you today but may be a customer in the future or  tat the person you are speaking with may know people that can benefit from your products or services.  Remember every interaction is an opportunity to build a relationship and thus create business as people like to do business with those they know, like, and trust.  Before you go into your programmed responses think how listening to an opportunity might benefit you.  Each time you engage with someone it is an opportunity to share information and possibly attract new business.
Categories : Advertisement Ideas, Advertising, Advertising Choices, Brand Awareness, Brand Recognition, Creating a Buzz, Excuses, Internet TV, Knowing Your Target Audience, Leadership, Leadeship in Business, manners, Marketing, Marketing Strategy, maximizing your message, Money, Networking, Public Relations, Revenue Building, Social Media, Soliciting, Special Interests, Tag Lines, Testimonials, The Message, Traffic Building
Leave a Reply